June
29
You Did It! You Just Hit a Home Run!!!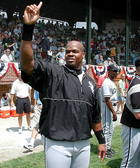 Sometimes we happen upon things by total chance. Like a few years ago, when a friend of mine re-told stories from his brother who worked at a Major League Baseball ballpark. The stories consisted mainly of using the stadium cameras to look around for hot babes and people doing things they shouldn't be doing. Funny stuff.
I was actually more interested in the story about how this person also had a giant list of phone numbers – some of which were for actual baseball players. Immediately, my mind started racing and I regressed about 15 years in age, back when I was still collecting baseball cards.
In 1991, Frank Thomas became my baseball hero. I had about 30 different cards of his and collected anything that had to do with him. If there was an article about Thomas, Google be damned, I knew about it. Thinking about that crazed time of my life, it only made sense to see if my friend's brother had Frank Thomas' phone number.
Sure enough, he did, and I promptly put it into my phone for safe keeping.
One night, while enjoying some cheap beers at Buzzard Beach, Aaron and I were watching the White Sox on television. I had told him the story about getting Thomas' phone number and how silly it was. Then, the guys on television were discussing how Thomas was one home run away from number 400 in his career. Aaron joked that if he hit it while we were there, I had to call the number to congratulate him.
About 30 minutes later, with the simple swing of his bat, Frank Thomas recorded 400th home run. Before Aaron could even prompt me on what I had to do, the phone was to my ear and Thomas' phone was ringing. I think this is what I said:
YOU DID IT! YOU DID IT! YOU'RE JUST ROUNDING SECOND BASE RIGHT NOW. YOU HIT NUMBER 400!!! MAN, THAT WAS AWESOME. CONGRATULATIONS BIG HURT! YOU RULE!
I hung up the phone and that's when Aaron and I busted up laughing hysterically. It was definitely his phone (at least the voicemail sounded like him) and I'm pretty sure I was the first person to ever say congratulations. He never called back, though. Weird.
Anyway, today Frank Thomas hit his 500th career home run. He's only the 21st person to do that. With a career .300 average and 500 home runs, I have a feeling he might make it into Cooperstown.
Congratulations Big Hurt, can't wait for #600.
+ original post date: June 29, 2007 08:00 AM
+ categories: Family/Friends, Funny, Ha Ha, I'm An Idiot, Sports