June
24
I = Geek, Geek = Chic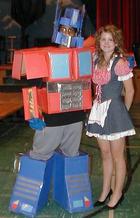 Napoleon Dynamite. Hiro Nakamura. Those "Very Very Very Rewarding" Visa commercials. Geek Squad. I could go on, but if you haven't noticed the trend, as of late, it's becoming more and more common to find the geek persona everywhere you look. Geeks are being embraced by pop-culture and, well, exploited by it.
But the examples I threw at you are the more tried and true notions of what geeks are – nerds. You know, the guys/gals with thick rimmed glasses, pocket protectors and zero social skills. They're usually fascinated with science, technology and fantasy. But that doesn't mean that we all don't have a little geekiness in us. Think about it, how many times have you gone on and on about a subject, only to stop, apologize and profess that you were just "geeking out?" Go on, raise your hand. Nerd.
Since we're all in that boat, it means that we need to modify the definition of a geek. Here's how I like to define a geek:
An enthusiast, or expert, who is primarily motivated by passion in a specific field or activity.
I didn't make that up – I just compressed some lines from Webster and Wikipedia, but it sounds about right to me. Geekdom isn't confined by science fiction or technology. Being a geek means you have passion and extensive knowledge about a specific thing. There's nothing wrong about that. So hows about some self-exploraton?
Here are five things that I get my geek-on to:
Star Wars – Movies, cartoon, action figures, books... they're all fair game here. I haven't played all the video games or attended conventions, but this is my most expansive geeky quality.
CSS – Coding web sites was my life for 8+ years. I still feel like I'm at the top of my game there.
Movie Trailers – It rarely happens that I go to the movie theater and see a trailer I haven't already seen online. I also used to help co-write this blog about trailers.
Sports – I think this one will be common for a lot of guys (in particular). I like football, basketball and soccer the most, yet I find myself knowing a lot of headline news about most sports. Thank you ESPN.
Harry Potter – This is probably the weakest of the bunch, but I do love the books (and some of the movies).
So what are you geeky about? Post it on your blog, let the world know. Thomas, you could tell us more about your shoes. Scoot, you might elaborate on your walking techniques, or bar-hopping. Gildo, Werlew, Tevis, there's gotta be something you can contribute to the geekverse. Don't hide it, celebrate.
+ original post date: June 24, 2007 05:17 PM
+ categories: All About Seth, Family/Friends, Pop Culture, Sports, Star Wars, Web Stuff