November
12
AT&T Billboards Reek of the Internets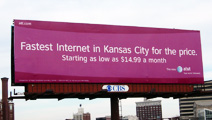 A while back I wrote about AT&T's new billboards and how ridiculous I think they are. I saw these billboards as a cheap effort for AT&T to cash in on buzzwords and the public not knowing any better. I even had a little bit of fun and made my own versions of the billboards, to illustrate that AT&T really does deliver all kinds of stuff via the internet.
As if AT&T's effort wasn't enough with those billboards, they've gone and created another set in the same vein, but this time a little bit different.
The full text reads:
Fastest Internet in Kansas City for the price.
Starting as low as $14.99 a month.
Fine Print: Comparison of major broadband providers. Details: 1-866-416-6471 or visit att.com/offerdetails.
Here's a breakdown of what this billboard means...
There's more than one internet in Kansas City, and subsequently, the world.
You read it first on the billboard – we can now say "internets" and not sound ignorant. AT&T has confirmed that when someone tells you they found something in particular on the internets, it's not wrong, it just means they have access to several of the internets at their house.
AT&T's internet is the fastest in Kansas City... for the price.
Not only has AT&T built their own internet for their customers, but they've also figured out some type of pricing matrix that compares how much different internets cost. In this case, you can get a copy of AT&T's internet for $14.99 a month.
Paying more gets you bigger and faster internets from AT&T.
It says that it starts as low as $14.99 a month, but imagine paying double that... the internet you get would probably be double!
Ah yes, there's nothing like a company trying to fool the public and encourage incorrect grammar. Thanks AT&T, you're a beacon of light.
+ original post date: November 12, 2006 04:26 PM
+ categories: Advertising, Funny, Ha Ha, WTF, Web Stuff