March
23
AT&T "_________ delivered" Billboards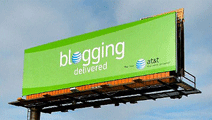 You're hauling ass down the highway, cursing at someone going too slow in the left lane, text messaging someone and BAM, you see one of the new AT&T Billboards. You read it, "blogging delivered," and you start to ponder about AT&T's new venture into the blogging world. I'll tell you right now, don't waste your time pondering too long – because AT&T doesn't offer blogging.
Nor do they offer podcasting, personnel, or anything else their billboards say they deliver – especially "your," where the O is cleverly replaced with a world (get it, your world). I take that back, I think that one of the billboards is correct, AT&T probably does offer email if you sign up for their service.
So what do these billboards all mean? Ultimately, I think they're just a cheap advertising tactic trying to capitalize on buzzwords to get new customers. It's actually pretty smart. You've got some CEO flying down the highway in their car and they see a billboard that says, "podcasts delivered." The CEO has actually heard this "podcast" word before, so automatically the connection is made that if said CEO wants a podcast, all he/she needs to do is contact AT&T.
But what are they doing to deliver them? Beats me. But me and some co-workers think that it's because they have this large network of wires dug into the ground. Imagine a call to AT&T customer service:
Seth: Yeah, hi. I'm having trouble recording my podcast.
AT&T: Okay. What can we do for you?
Seth: Well, it won't record. What am I doing wrong?
AT&T: I don't follow.
Seth: Uh, well... it won't record. Can you take me through the steps to record a podcast?
AT&T: Oh! We don't do that.
Seth: What?
AT&T: We don't do podcasts.
Seth: What do you mean you don't do podcasts?
AT&T: That's not a service we offer, sir.
Seth: Huh? On your billboard, it says "podcasts delivered."
AT&T: That's correct.
Seth: I thought that meant you'd help me with my podcast.
AT&T: No sir, I'm sorry.
Seth: Okay, well I'm sure I can figure it out. Say, while I've got you on the phone, where do I upload my podcast when I'm done?
AT&T: Sorry, we don't host podcasts, either.
Seth: What!?!
AT&T: We don't host podcasts, sir.
Seth: So what DO you do?
AT&T: We've got these wires.
Seth: Wires?
AT&T: Yeah. We've got hundreds and thousands of wires buried all over the place. And for a monthly fee, we'll lease them to you.
Seth: What do I need wires for?
AT&T: Uh... delivering podcasts.
Seth: Riiiight. I suppose you don't offer a blogging service, either, do you?
AT&T: Well, no... but we do have these wires.
Seth: *click*
If you haven't seen the new AT&T billboards popping up everywhere, then you're either a) in a very rural place, b) un-observant, or, c) ignoring them due to their stupidity. I, unfortunately, can't ignore them because they ARE truly dumb. But since AT&T is offering all of these things (but not really), then I thought of some billboards that they need to put up.
+ original post date: March 23, 2006 03:53 PM
+ categories: Advertising, Funny, Ha Ha, WTF, Web Stuff