September
24
Tupac Lives (with AMC)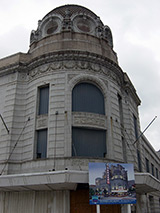 This morning I decided to take a walk down to the River Market for breakfast at Succotash. Since I was walking through downtown, I figured that I'd walk around all of the new Power and Light district construction to see what's been going on. The nice thing about walking around all of the construction are the giant rendering signs, showing you what the block (or building) will look like when it's done.
Aside from the Sprint Center and the new grocery store, the thing I'm excited most about is the new AMC Theatre that will be two blocks away from my place. AMC will renovate the currently unused Empire Theatre (which was once called the Mainstreet Theatre) at 1400 Main St.
It's rumored that this will be a test theatre for AMC and what movies they'll play there. Instead of catering to a more main-stream audience, AMC is planning on running indie films, foreign films and the bigger popular smash films.
When you look closely at the rendering next to the building, however, you'll notice the names of the films that are running in fiction-land:
Groget's Lame
Plain Sight
Tragic Happens
Juice
Chain of Events
Shaolin
Of those movies two are real. Chain of Events and Juice. Now I'm not su...
WAIT!!!! That said Juice! Holy crap! AMC loves Tupac! They're keeping him alive in their renderings of new theatres! God love you, AMC... you got the juice, now.
+ original post date: September 24, 2006 07:15 PM
+ categories: Funny, Ha Ha, KC, Movies, Pop Culture