December
22
Christmas With The Crazies (a.k.a. Post #300)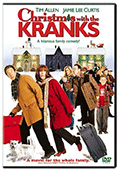 Don't let the title of this post fool you, I'm not talking about the new holiday classic crappy movie that came out last year, I'm talking about the dysfunctionalicizing of America's families and the holidays. And don't let that last line fool you, either. I'm not referring to MY family as being dysfunctional and crazy (okay, maybe slightly), I'm just talking in general terms – most families are dysfunctional and most holidays are crazy.
As JJ and Tug talked about in episode 28 of American Copywriter (in reference to a great Christmas season movie, "Christmas Vacation"), there's this oft-followed notion that holidays have to be huge and overly meaningful. The presents have to be big. The meal has to be perfect. The visits with the family have to be classic.
But when all the wrapping paper has been torn off, when the last helping of mashed potatoes are gone and when the last story has been told for the evening, does the holiday season ever come close to what you had envisioned it?
Not in my expereience. Sure, my holidays are memorable, but they're memorable for reasons that are real and not contrived and imagined in my head. I love my family and every second I spend with them, but the perfect gift or meal isn't going to make my holiday that much more enjoyable. According to a survey that WWE (WorstWeatherEver) posted on his blog, people who spent more time with families and religious activities felt the spirit of the season much more than shopping and buying gifts. I agrees. Yes... agrees.
Well, it's time that I start packing up the car and getting ready for my travels. I hope everyone has a great holiday season this year. Safe travels. Lots of fun. Great memories.
... and kick ass presents!
Holiday Tidbits
Our company was really nice to us this year, read all about it in the Wichita Eagle. Take a guess at who asked the question about the hams.
I got a Christmas Card from Bruno yesterday, it's great and I wanted to share. The inside of the card reads, "May your Christmas be anything buy politically correct." For more cartoons from Bruno, check out K City.
+ original post date: December 22, 2005 11:19 AM
+ categories: All About Seth, Family/Friends, Holidays, Movies