July
21
Americans Are Not Stupid.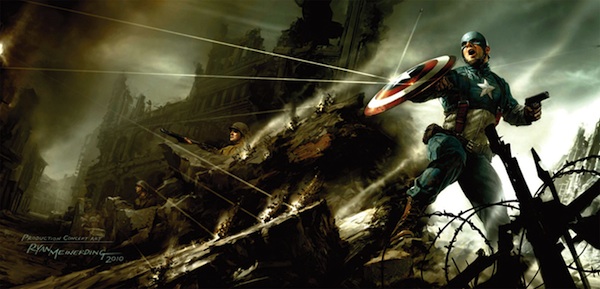 Hmmmm. I wonder who that guy is in the blue outfit and that, what the hell, is that a shield? A SHIELD??? What an idiot. And I'm preeeeeetty sure he's from America. Look at him, just standing there. Screaming. NOT blending in at all. Not the smartest guy in the war. Ah well, guess I should shoot him now.
GUNSHOTS!!!
What the!?! My bullets deflected off of that lame shield! Oh no you don't!
MORE GUNSHOTS!!!
He's still alive!?! C'mon, dude. Die!!!
17 MORE GUNSHOTS!!!
This is ridiculous. All he's doing is standing there. Screaming. And deflecting all of the gunshots that I've strategically aimed at his upper torso. I've NEVER seen anyone deflect bullets that were going directly for the right elbow! It's kind of sad that no one taught me how to aim for legs or feet, or even hips. It's not even worth trying. I seriously doubt a grenade would even work.
Sigh.
ONE GUNSHOT!!!
Crap. It was worth another try, eh? Man, he's good. You know, I hope we don't lose this entire war because of one goofball and a shield. Ha! Yeah, right! That'll be the day.
+ original post date: July 21, 2011 08:26 PM
+ categories: WTF