June
29
SethGunderson.com Account Services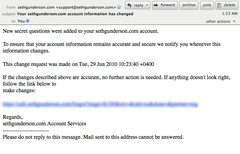 Attention readers: You're probably already aware that you're on SethGunderson.com (or that you're reading content from SethGunderson.com). And while it's fairly obvious that I've taken a small break from writing at a good clip, there's something that I want you to know – SethGunderson.com has the best and most intelligent Account Services around.
That's right. When you create a user account on SethGunderson.com* we ask for the following criteria:
Name
User Name
Password
Confirm Password
Birthdate
Email Address
Social Security Number
And a whole slew of secret questions just in case someone hacks your account
Apparently, someone hacked MY account. That's when/where SethGunderson.com Account Services kick in. You see, when changes are made, an automatic email will be sent to you asking you to make sure everything looks right. And if not, to log on to your account at a completely separate URL to make changes.
It's practically foolproof. And it's just another one of the ways that SethGunderson.com is delivering for you. To take advantage of this service, make sure that you have the address support@sethgunderson.com listed in your address book. Enjoy!
* YOU CAN'T CREATE AN ACCOUNT ON SETHGUNDERSON.COM BECAUSE THAT FUNCTIONALITY DOESN'T EXIST.
+ original post date: June 29, 2010 08:48 AM
+ categories: This Site