June
25
Bring LeBron James to Kansas City!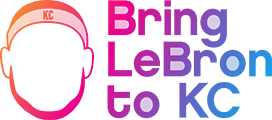 Have you ever heard of LeBron James? If not, you should quit life. He's basically the Michael Jordan of the 2000s. They call him King James. He's 6 foot, 8 inches, he weighs 250 lbs., and he runs the court like a point guard. This past season he averaged almost 30 points, 8.6 assists and 7.3 rebounds PER GAME.
Basically, he's a bad ass.
When a player (like LeBron) is that good, it's normally good news for whatever team they play for. In this case, the Cleveland Cavaliers surely count their blessings daily.
But there's a problem in Cleveland. LeBron's contract runs out in 5 days. That means that any team in the NBA, including Cleveland, has a chance to sign one of the greatest players ever.
I'm happy to say that even though Kansas City doesn't have an NBA Franchise, that doesn't mean we're not courting LeBron to play for us. Because, if you think about it, if the King comes to KC, the NBA would HAVE to give us a team.
If you'd like to have LeBron play for KC, there are ways that you can help. First, tell your friends about BringLeBronToKC.com. Second, read about the LeBron Legislation and then sign the LeBron to KC petition. Third, uhhhhh, talk crap on other cities so LeBron thinks they suck.
Let's get LeBron to KC!
+ original post date: June 25, 2010 09:05 AM
+ categories: KC, Sports