September
04
BMN: Swing Vote
"We see bad movies so that we can truly appreciate the good ones."
– Someone who (obviously) thinks we're doing ourselves a service.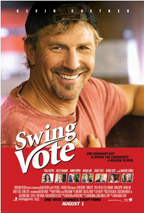 If you look at the number of bad movies that are popping up out there, then you'll surely know that the fall movie season is upon us. Our schedule is booked SOLID for the next month, if not two. I haven't really figured out if that's a good thing, or not.
A movie that we saw a few weeks ago couldn't be more perfectly timed for the upcoming election. In what MUST be pure coincidence, the Kevin Costner starer "Swing Vote" talks a lot about elections. I believe it'll be the highest rated bad movie we've seen all year, as it was a few weeks ago -- before the filth started to unearth themselves. Sitting at 40% on RottenTomatoes doesn't necessarily mean "Swing Vote" is a bad movie -- but it did things wrong, enough so that critics didn't think it deserved positive accolades all around.
[Beware: spoilers may be present.]
The big, over-arching, can't miss it, slam you in the face, moral of the story is ... get this ... every vote counts. That's right, every single vote counts. From the President, all the way down to one of the dumbest men in America, all of our votes count. And really, if we don't vote, then the Presidency could be decided by one person.
If there's one thing I learned from the movie, it's that I need to go out and vote. That's it. That's the moral.
Well, I guess that's not ALL I learned from this movie. It was chock full of other morals, like:
It's not a felony (read: it is a felony) to commit voter fraud if you're going to be the one person that decides the "fate of our country"
It's not illegal for 10 year olds to drive their drunk father home
It's okay for Costner to play the exact same role in a movie twice (see "The Upside of Anger," and/or ask Helen Hunt, Jeff Goldblum or Nicolas Cage)
It's okay to put your real-life band in a movie if you're a producer of said film
It's not okay to cast Judge Reinhold, Nathan Lane or George Lopez in movies anymore
It's okay to star in two BMN movies in one month (see Paula Patton)
The potential saving grace of this film comes in when the two presidential candidates started to flip-flop on their issues and ran commercials about their new views. Seriously, it must have been how this movie was thought of – one drunken night at a bar, the writers came up commercials that we'd NEVER see politicians do (they're not on YouTube, sorry). Believe me, they're great.
"Swing Vote" wasn't that horrible of a movie. It did have it's moments, but overall, I agree with RT's assessment of 40%. If you're a Costner fan, enjoy. If not, dodge this one.
+ original post date: September 4, 2008 07:37 AM
+ categories: Bad Movie Night