September
26
BMN: Mirrors
"We see bad movies so that we can truly appreciate the good ones."
– Someone who (obviously) thinks we're doing ourselves a service.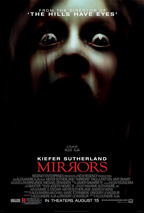 If there's one question that I ask myself over and over, it's this, "where did Kiefer, and his oddly shaped connected earlobes go wrong?" One possible explanation is that things went severely downhill after season two of 24 (more on that at Why 24 Sucks, if you're interested). But in looking at his RottenTomatoes profile, it looks like Kiefer hasn't done a "Fresh" movie since "Phone Booth," or, if you're counting, since narrating "NASCAR: The Imax Experience." The latest stinker that we've had to see Mr. Sutherland in is yet another Asian horror film remake – this time to a movie called, "Geoul sokeuro." I can only imagine that the original is decent enough to remake. I'm not at all shocked that "Mirrors" could only muster a 15% on RT.
The misleading thing about the film is its production value. I thought "Mirrors" was shot well and even had quite a few good shock tactics to boot. And the premise of the story is a pretty good one:
An ex-cop and his family are the target of an evil force that is using mirrors as a gateway into their home.
Sounds pretty creepy, eh? Well, after watching it and coming up with a handful of questions/statements, it's easy to see why this film sucked (spoilers ahead, as if you might see it after reading this review):
So the movie primarily takes place in an old burned down department store. The fire was so bad that 40+ people died and many more were severely burned. Biiiiiiiig fire. Big enough to burn all the clothes in the building. Big enough to destroy register counters. Yet... NOT big enough to burn mannequins OR to burn curtains in changing rooms that people are burning to death in.
This same burned down department store was said to have no power – as evidenced by the need of all security guards that go in there having flash lights (and doing that cool trick of shinning the light into the lens of the camera). That quickly gives you a nice dark and creepy setting. Eventually, Kiefer makes his way down into the basement of the building, where, lo and behold, there's running water AND electricity. Strange!
Eventually we're shown how the mirrors kill people (yes, I said how the mirrors kill people). While looking into the mirror, you see a reflection of yourself (duh). But then, the reflection does something bad to you, and YOU DIE IN REAL LIFE!!! That's kinda the freaky part.
It becomes stupid when the mirrors are really wanting to find someone – Esseker. Kiefer, who is an ex-cop, receives a package in the mail from the previous security guard that dies in the film's opening scene. Don't mind he fact that we NEVER find out how a dead guy sends someone he doesn't know a package, no, the part you need to understand is that this mirror's killing spree has been going on for years.
Apparently, it all leads back to Esseker. So Kiefer uses his cop friends to search for Esseker. Surprise, no one can find this person. Which might lead you to believe that the mirror wrote the name backwards! Quick, do a search for Rekesse! WRONG! All you had to do was find out that the department store USED to be an old mental ward and do a different kind of people search, you know, for those that were in hospitals...???
Bingo, that worked. Shoosh. We find out that Esseker (a girl named Anna) was a patient at the mental ward and she was a paranoid schizophrenia with multiple personality disorder. The doctor thought the best cure was to put her in a room full of mirrors for days at a time.
Then, somehow, the devil left her body and went into the mirrors.
Oh, sorry. I forgot to tell you that something weird happened, Anna escaped after being thought dead. Kiefer tracked her to the Convent where she took solace so many years prior. As you might expect, Anna was very reluctant to go with Kiefer, but after he yelled a few times and waved a gun, she obliged.
They got back to the department store/hospital and went down to the mirrored room. Anna then explained that "the mirrors want me back so that the devil can take physical form again." Ah, that makes a LOT of sense, but begs the question, "why did the devil leave in the first place?" Anna also told us that the only way to defeat him is to kill her once he's in her body. She's a wise sage, that Anna.
So Anna sits in the chair, stares into the mirrors and BAM, the devil is back inside. She and Kiefer fight and somehow the supposedly non-functioning gas pipes explode and fire rages out of control. Luckily, the sprinkler system kicks in and prevents the building from exploding/burning down again.
BUT WAIT!!!! Why didn't the sprinkler system work in the last fire? Don't worry about it. Kiefer saved the day. And such a fine fitting to the end of a shitty movie. The sad thing is that there was so many other things I skirted over as to why this movie sucked. Ah well. I'll just keep on contributing to the demise of Hollywood.
+ original post date: September 26, 2008 09:51 AM
+ categories: Bad Movie Night