July
10
Bowling for da Kids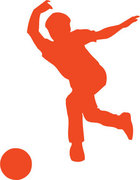 If you're an avid reader here, you'll know that I've been using my bowling powers for good in the past several years. Basically, I ask for monetary donations and then I go bowling (and eat free pizza, and drink free beers) for kids' sake – it's all for the Big Brothers Big Sisters of Greater Kansas City. It's a fun time and a good cause.
Well, it's time again to start the pledge drive. The sad part about this year, is that I have one week to get my donations. That's where you, my sweetness and loyal readers, come into play. It's super easy to donate, all you have to do is go check out my radically designed bubble-donation page and make a donation (you should receive tax receipt via email... should). When you make a donation, your name will show up in the Honor Roll box, pretty cool!
I'm attempting to raise $350 this year, so any amount of donation helps. Help me help kids. And their sake. Err, FOR their sake. Please?
+ original post date: July 10, 2008 09:23 AM
+ categories: All About Seth, Sports