July
22
BMN: Handjob Hancock
"We see bad movies so that we can truly appreciate the good ones."
– Someone who (obviously) thinks we're doing ourselves a service.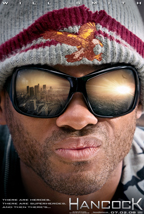 All aboard for the superhero movie train! Because Iron Man, The Hulk and Batman weren't enough, we needed another superhero thrown into the mix. Ladies and gentlemen, may I introduce "Hancock" – the latest hero that's pitched as an anti-hero. The trailers for this movie looked great, the reviews... not so great. You gotta hand it to the marketing team here, they put butts in seats.
The really sad thing about "Hancock" is that it starts out with something really good and then it just unravels. Quickly, at that. It tries desperately to fix itself towards the end, but not even a blessing from the Gods would allow that to happen. "Hancock" follows the story of Hancock, the local superhero that also suffers from alcoholism (or, at least he's drunk most of the time). He usually fights off the bad guys, but the city takes on millions of dollars in collateral damage because of his antics.
Sounds like a sweet ass movie, yeah? Wrong.
There are the small things. Like the fact that Hancock (who is super strong, can fly, and is impermeable to bullets) can get drunk. Or the notion that there are eagles everywhere that Hancock is with NO explanation. But where the film suffers mostly is in the creation story and how it continues to explain itself.
So where is Hancock from? Another planet? No. Did he get his powers in some freak accident? No. Was he just born that way? Actually... no. Get this, he was created by the gods. Yes. He and his girlfriend/wife/ex (Charlize Theron) were created as a pair, by the gods, as an "insurance policy." The only problem is, when they're together, they lose their powers – this is so they can live like humans and love. So when they're around each other, they're more human-like, then someone gets hurt and somehow gets amnesia. Then, fast-forward 80ish years, and they're magically drawn together again and thus the cycle continues. Oh, and they've been doing this for over 3,000 years.
I'm sorry, when did Shama-lame start writing this film? THAT'S your creation story? You were made by the gods? As in Greek gods? As in this film is now an anti-Christianity film? And when the two of you super people get around each other, you lose your powers? But you continue to do this for over 3,000 years? And alcohol affects you?
The film is hovering around 40% on RT. The reason is because this movie had such a great notion and just couldn't follow up on it. I won't say it's a bad movie, in fact it's the best one we've seen all season. So no, it's not bad, it's just a huge letdown. HUGE letdown.
+ original post date: July 22, 2008 08:52 AM
+ categories: Bad Movie Night