February
17
Gigantor Wins Slam Dunk Contest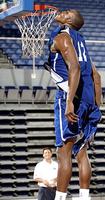 My friends, gone are the days of Dominique Wilkins vs. Michael Jordan and 5'7" Spud Webb (which is STILL amazing). In fact, in direct contrast to Webb, this year's slam dunk contest winner is none other than 6'11" Dwight Howard.
You read that correctly. Howard is a full foot taller than the shortest winner ever and, while wearing shoes, stands at over 7'. He can literally kiss the rim. When he hangs from the rim, his feet are less than a foot off the ground. That means he only has to jump about 1.5 feet to slam the basketball.
But that doesn't mean he's the next Shaq. Actually, he's far from it. The reason why – athleticism. This guy isn't just a big tree that moves slowly and only when he wants to. No, this guy can fly. And jump. And apparently can dunk on a 12-foot goal (not too many people can make that claim and back it up).
So before you pass judgement on allowing a super tall dude win a dunk contest, check out the video (courtesy ESPN's new video embedding service) and see why.
+ original post date: February 17, 2008 01:09 PM
+ categories: Sports