November
11
It Sucks To Be Me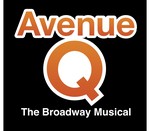 Don't let the blog title fool you. Not that I'm overly egotistical and think you SHOULD be me, but my life isn't half bad. What I AM referring to, however, is the Broadway play "Avenue Q," which is one of the funniest things I've seen in a very long time and also playing in Kansas City right now (actually, today is the last day, I believe).
The idea behind the show is a modern day, realistic and raunchy Seasme Street. Which easily becomse one of those, why in the hell hasn't this been done before and, more importantly, why didn't I think of that, ideas.
Seriously, this show is hilarious. Not only is the play hilarious and well-written, the cast was incredible and how the actors acted with the puppets was amazing.
I don't want to spoil too much about the show, but my favorite parts included the Bad Idea Bears – two adorable and sinister bears who try to convince people to do irresponsible things. They were two cute bears who talked in high-pitched voices and were trying to get the other puppets to buy more beer/drinks and to have sex. When the puppets wouldn't agree, the bears would threaten suicide... all in a cute voice.
Hilarious.
If any of you ever get the chance in New York to see the show, please do. That is, if you want to hear songs like:
What Do You Do with a B.A. in English?
Everyone's A Little Bit Racist
The Internet Is For Porn
If not, then maybe this show isn't for you.
+ original post date: November 11, 2007 04:33 PM
+ categories: Funny, Ha Ha, NaBloPoMo, Pop Culture