October
03
*Blows Dust Off Blog*
Oh hey there. I didn't realize there were still people that visited this place. *wink wink* I'm hilarious. As you might be able to tell, I've been, uh, kinda busy lately. Work has been occupying a lot of my time and my social activities are in full bloom. I think I have something planned for every weekend up until Thanksgiving. Yikes is right. But things HAVE been going on, and I'm planning a big return for November.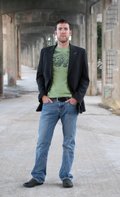 Interwoven Threads
My pal Andy has his own line of clothing called Interwoven Threads. It's a great concept, when you buy a shirt (which is all that's currently offered), another shirt is donated to a local homeless-advocacy organization. All of the shirts are printed on organic cotton, which promotes a green-friendly environment. Soon, a new design will be gracing the Interwoven web site – one designed by yours truly. It's called Grid and is my interpretation of what traffic jams do to people. You can see a tease of the design by clicking the thumbnail to the right. Anyway, if you're excited to buy your own, bug Andy and tell him to get his booty in gear.
Vacationing on the Cheap Looks MUCH Better, Now
This week, several months of planning, designing and coding has finally come to a close. I present to you the brand-new ValuePlace.com. We've been working hard on a re-brand of Value Place and the web site is one of the integral pieces. Nice clean design (surprised?) + zero tables = one smooth site. I hope you like it.
My Plans for November
In borrowing an idea from Fuska, I'm going to participate in NaBloPoMo (National Blog Posting Month). The premise is simple, post a new entry on your blog every day for the month of November. Insane? Psycho-sematic? Nerdy? Yes. All three. So if you have ideas of things I could/should write about, then let me know.
That's it for now. I'm off on vacation for the next few days. If you want more Seth ranting, check out the Why24Sucks blog, there's been a mess of news lately.
+ original post date: October 3, 2007 09:50 PM
+ categories: All About Seth, Things I've Made, This Is Cool, Travel/Vacations, Web Stuff, Why 24 Sucks, Work