August
27
Going Postal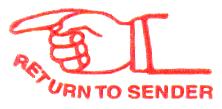 If there's one thing in this world that I love, it's getting mail. Seriously. Ask Todd if you don't believe me. So when I go two days in a row without receiving any, I notice it. When three days in a row come and go with no mail, I start to get suspicious. Forget the fourth day, because by day five I'm suspecting an outright conspiracy. Six? This is torture. Seven? I'm about to blow something, or someone, up.
Take cover everyone, because we're on day seven right now and still no mail.
To quell my paranoia, I decided to leave a note for the other tenants in my building:
Is anyone else NOT getting mail? Just curious.
Two days go by before I get my first response – which was a "no." When I got home from work today, the post-it note I had put up was full of responses... all of them "no."
I called the landlord to see what the dilly was. He said that he was in contact with the post office and apparently they can't get into our mailbox. Someone must have lost the key. There's currently a work order in place to correct the problem. Unfortunately, the work order has been in place for a week now. Who knows when it'll actually be fixed. In the meantime, however, it appears that we can pick up our mail at the local post office.
Did the mail man leave a note telling us that? No. Has someone's bill already been issued AND returned to sender? Yes, the landlord told me that (sorry if it was you, that sucks). Not that I was eager to receive all 12 of my credit card offers, but what if I was expecting something important? I suppose it was just too much trouble for the mail man to let us know that we could pick it up ourselves at the post office.
I was told that this isn't the first time our kind mail man pulled this crap. And what happened when our landlord complained about the problem? It just took longer to correct. Because really, who else is going to deliver our mail?
+ original post date: August 27, 2007 07:41 PM
+ categories: Dwellings, WTF