May
20
Scooter J, Tour Guide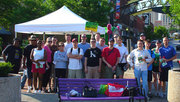 Yesterday morning I woke up to Bruno calling me at 7:45. I didn't answer the phone, but I knew what he was calling for – The First Annual Spring KC TourWalk, led by Scoot, was beginning soon. I lay there, trying to get myself up and decided that there was no way I would make the 8:00 starting time – sorry Scoot.
At 8:05 I was up and walking around my place and decided to check out the site and see the progress the group had made in the five minutes I missed. To my surprise, the walk was to start at 8:30. I quickly got my stuff together (backpack, sun block, granola bars and water) and drove down to the River Market.
The walk started a little after 8:30 and, after six scenic miles, we reached the Plaza around noon. It was a truly awesome morning and a six-mile walk isn't really that bad at all. I only did half of the walk and have yet found out how the rest went. Though something tells me that a 12-mile hike is child's play for Scoot.
If you don't live in the KC area, or haven't seen it yet, check out the article about Scoot's TourWalk in the Kansas City Star. And congrats Scoot, I can't wait for the next one.
+ original post date: May 20, 2007 08:44 PM
+ categories: Family/Friends, KC