May
30
Last Meal?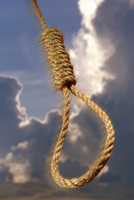 Today at lunch, for whatever reason, I asked a pretty morbid question to my co-workers.
Imagine you were sentenced to death by execution. If given the choice of what your last meal would be (regardless of what it was), would you eat as much food as possible and try to explode your stomach?
See, morbid.
I'm not sure exactly where that came from, but I thought it would be funny to eat as much as you could and just be miserable before you went to meet your maker. I mean, when you're stuffed to your gills, don't you just want to die anyway? We've all said it, don't deny it.
Anyway, let me ask a different question to all of you:
If you were sentenced to death by execution and given the choice of what would your last meal would be... what would you request?
I couldn't do nachos, since I have them quite often. And it couldn't be wings, that's too messy of a last meal. Pizza is out, because who wants to down eight slices as their last meal? Mexican food isn't it, as there isn't one that really differentiates itself from the pack. Italian? No way, too many carbs. I'd want something filling and flavorful. Something hearty. My choice would be a Flea Market burger (cooked Medium-Raw), McCoy's macaroni and cheese, Oklahoma Joe's french fries, cottage cheese and some fried twinkies for dessert.
Sure, I'd be stuffed. But I wouldn't really have to worry about not having a gallbladder anymore, now would I. *evil grin*
+ original post date: May 30, 2007 02:35 PM
+ categories: All About Seth