February
20
None of the Above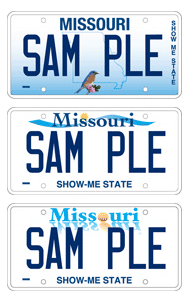 I got an email from a co-worker today that had a link to go vote for Missouri's new license plate design. I must say that I'm not impressed with ANY of the three choices.
Bluebird
A bluebird? Really? I like the outline of the state, but loathe where the "Show-Me State," tagline was placed. It appears to have been an afterthought. Like the use of the gradient, but otherwise, not a very strong design.
Ribbon
What exactly is the ribbon for? Is it the Blue Ribbon Coalition? Is it to protect free speech online? Or is it some lame design nugget that looks like water? If it's supposed to be water, then it needs to be brown, since the Might Mo is a dirty river.
Reflection
When I think of Missouri and the "Show-Me State," I think of reflections. I often reflect on my own life, my time in Missouri and others. What we need is a license plate to do this. Or not. And what's up with those colors?
Where's the option for none of these? They're so uninspiring. Maybe the goal was to give the other 49 states more reasons to make fun of us. Mission accomplished.
+ original post date: February 20, 2007 11:32 AM
+ categories: Funny, Ha Ha, KC, WTF