November
30
The SnowSinus Blues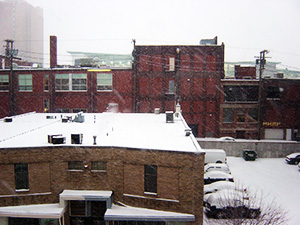 Here I am, sitting at home, avoiding the snow and trying to fight off my fourth sinus infection in a year's time. When I get sick, and am left to do nothing but sleep and stare out my window, I tend to think more about my morality mortality. With that said, here are the top five reasons that I know I'm getting older:
1. NPR Rules
Remember when listening to NPR and watching AETN was like smashing your balls in a doorway? I do, it wasn't that long ago. But now that I have a huge distaste for radio dj personalities, and the lack of a truly good radio station on the public air, NPR has made my life so much better. If you're not listening to NPR, you should. You'll feel smarter after 1 minute.
2. My Immune System Sucks
I'm supposed to go see another specialist tomorrow, this time about my blood. While I'm still certain that I'm fine, that's obviously not the case with my sinuses. I've got what's called a deviated septum, and that apparently isn't helping fight off multiple sinus infections. I may have to get a humidifier for my loft. Or rip my nose off.
3. Sappiness is Up
Old people cry, young people don't (yeah, that's a bad stereotype). But since I'm getting older, I've been able to effectively put myself in other people's shoes. TV shows are the worst and it doesn't seem to matter what show it is. If there's a sad situation, chances are I'm curling some lip.
4. Gift Wishes
I love getting gifts. Who doesn't? Growing up, though, I HATED getting clothes as a gift. Give me a toy, some video game, hell, even a book. But clothes? Blech. Well, now that I have to pay for everything in my life, getting my own clothes has taken a serious back seat. Now, I enjoy getting clothes as gifts. I'll even accept bath towels, kitchen stuff and more grown-up things. That's a serious sign of getting older.
5. Blank Faces
When I'm in a group of my "peers," and I'm asking questions like, "you guys remember Ollie North," and then crickets chirp, that's no good. Why do I hang out with young people!
I'm sure there's more to this list, so please, assist your elderly friend.
+ original post date: November 30, 2006 06:26 PM
+ categories: All About Seth