November
07
New Outlook on Life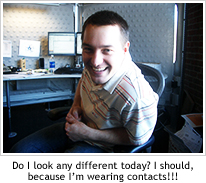 Today I had yet another appointment with yet another doctor. Sigh. But today was a good one. The check up went well, everything looked good and as it should be. No abnormalities. No blood work. No follow-ups. No specialists. Nothing. I feel like I've been given a new lease on life.
Granted, it was just the eye doctor. But a good check-up is good check-up, nonetheless, right? Right? Soon I'll have a nice half-year supply of contacts and some fancy new glasses. And, if you want to know who world's worst contact putter inner is, look no further.
If you're in the KC area and are searching for a good eye doctor place, then I highly recommend Insight Eyecare – now with an office in downtown Kansas City.
+ original post date: November 7, 2006 01:48 PM
+ categories: All About Seth, KC