October
02
The Rocky Run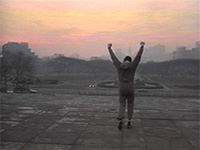 So I'm looking at the ol' belly and I decide it's time to start running again. When I moved to the Crossroads area, I was excited because I had a more urban area to run in – and I did just that for a while. Then the summer hit and I was playing softball, so that was my workout (riiiiiiight). Well, softball is over and it's time to get my energy levels back up.
When I was running in the spring, I found a route that was around three miles, but not overly challenging. The Crossroads has its share of hills here and there (most notably where the new Performing Arts Center is being built), but otherwise it's a flat area... nice for runners.
One day I'm running East on 20th Street and as I'm crossing Main, I see the Liberty Memorial staring right at me. The next day, I mapped out a route and took off for it. It was a nice run, until about the first mile checkpoint – which occurs halfway up the hill to the memorial. After a pretty massive hill and 150 total stairs, I made it to the top, gasping for air. To make things worse, some other runner flew up past me as if it were child's play.
Yes, you just read that right, 150 stairs. Ugh! But I'll tell you what, for as much pain as you feel after doing it the first time, it's awesome to know that you didn't stop one time all the way up. Slowed down, maybe, but never stopped.
I call it "The Rocky Run," and I can't wait to fly up all 150 stairs to the top. Hell, I might even one day have the energy to jump up and down when I do it.
Want to see it in Google Earth?
+ original post date: October 2, 2006 11:36 PM
+ categories: All About Seth, KC