March
08
Hooters, Go Back to Boob-land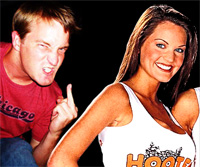 This is the best Kansas City-based news I've heard in a long while – Hooters will no longer be buying out the Westport Flea Market and tearing it down. Instead, local entrepreneur Joe Zwillenberg (owner of Joe Joe's Italian Eatery and Joe's Burger Joint) will purchase the Flea and says that nothing will change.
That's freaking awesome!!!
Save Our Stadiums? More Like Save Our Owners!
In other Kansas City area news, our beloved sports stadiums (for the Royals and Chiefs) are easily the hottest topic around the city. Both teams' leases run out in 2014 and there's a huge push for tax-payers to give the teams millions of dollars to fix up both stadiums. On top of all that, literally, the Chiefs want to add a retractable roof so that we can host a Super Bowl in 2015. Many officials are even threatening that if this initiative doesn't pass, then the teams will leave the city.
What a lame threat. Usually, when teams want to renovate (or better yet, why not build a new stadium... at least a baseball one, downtown...?) stadiums, they put in a lot of their own money – THEN ask the public to pass taxes to help fund the rest. That makes sense, right?
In this case, the total bill is hovering around $800 Million. That's $800 Million to refurbish two outdated stadiums and build a retractable roof... and guess how much the Chiefs and Royals are putting in... $100 Million. Total. That leaves, oh, about $700M for the voters to come up with. Sounds like a deal... for the owners.
Unfortunately, because of all the Super Bowl talk, this thing is probably going to pass... especially because the following groups endorse the plan: Greater Kansas City Chamber of Commerce, The Kansas City Star, The Downtown Council (yeah, way to support downtown!) and The Greater Kansas City Building & Construction Trades Council. Visit saveourstadiums.com for more information.
I think we've been here before with Kemper Arena. They clamored that it was so much better to just renovate the arena so the voters gave them the money... and now what, Kemper is barely used and we're building a new arena in the middle of downtown. Brilliant. Let's just upgrade Arrowhead, tear down Kauffman (even though it IS a beautiful stadium) and build a new baseball stadium downtown. Pittsburgh did it for $350M about four years ago. That's pretty cheap if you ask me.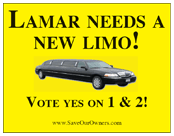 Ultimately, a lot of people against this plan think that David Glass and Lamar Hunt are being huge cheapskates. A hilarious opposition web site has popped up at saveourowners.com, check it out.
Here's my take... Can we for once do what's best for the city? Truman Sports Complex has NEVER been what it was planned to be – a family destination, even at times other than games. Let's do what's best for the city and it's downtown revitalization and build a stadium downtown – it's worked for Denver, Pittsburgh and several other cities, why not us? And if the Royals or Chiefs want to leave because we're not willing to pay more than our share of the costs... screw 'em. Good riddance.
+ original post date: March 8, 2006 03:52 PM
+ categories: KC, Sports, This Is Cool