March
07
Do You Park More Better, Now?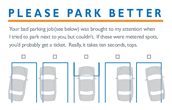 I know that Steven has used them... I'm pretty sure that Scoot has used them... but beyond those two, I haven't heard too much about it. It's been a while since I've written anything about my Please Park Better cards, but I think it's time that I re-visit the idea. Tell me:
what you like about them
what new cards you'd like to see
what you'd change
stories from using them
anything
If you do that, I'll go make some new cards for us all. Heck-fire, maybe you'll even see a new web site dedicated to it. How about them apples?
+ original post date: March 7, 2006 02:44 PM
+ categories: Park Better Cards