February
12
It Wasn't
Bri

ga

de

At All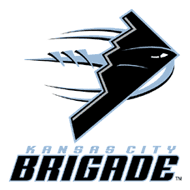 I've never owned a set of season tickets to anything, so when the opportunity popped up to get season tickets to Kansas City's first arena football team, the Kansas City Brigade, a friend and I jumped at the chance.
Today was the first home game of the year and it was announced earlier in the week that a sell-out crowd was expected. The attendance totaled 16,000+, unfortunately, the Brigade lost the game – but not before making it really exciting by almost scoring with less than ten seconds to go. Oh well, can't win them all... or in the case of the Brigade, can't win any of them, either, so far.
On a side note, I never knew why the name "Bombers" wasn't chosen. I think it odd since they went with a bomber as the damn logo. But what do I know? Not much, I suppose, since a cop called me a "moron" twice in five seconds while going to the game. I felt like I was on "COPS."
Wanna see some pics from the game?
+ original post date: February 12, 2006 05:11 PM
+ categories: All About Seth, Family/Friends, KC, Sports