January
05
Sarodd Engaged!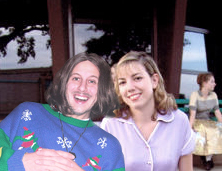 One of my greatest friends and one of my favorite persons got engaged last night and I'm so super excited for them. I think it's been in the works for the past few years now, the writting was on the wall, but now it's offish! Congratulations you two!!!
So now that it's official, so too is the fact that we can combine their names into one. Just like we have Bevron (Aaron and Bev) and Lauric (Laura and Eric), I hereby announce that Todd and Sarah can now be called "Sarodd."
I choose Sarodd because "Todah" sounds too much like ta-da and "Todrah" is eerily similar to She-ra. So Sarodd will have to do.
+ original post date: January 5, 2006 08:58 AM
+ categories: Family/Friends