November
22
Thanksgiving Treat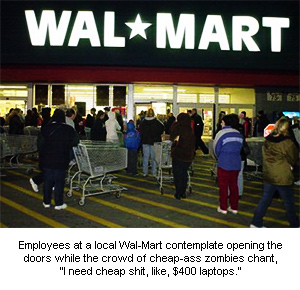 Can you feel it? It's coming. Thanksgiving is nearly here. We're talking turkey, pecan pie, parades, football and the dreaded Black Friday. Will you be shopping on Friday? I used to. I used to really love the idea of getting up at the butt crack of dawn to go stand in line to get $20 off of the new cool toy. I loved the idea of combing through the lack of flyers, trying to figure out where I was going to get the best deal. Worst of all that, however, was the fact that I was usually holed up in Hot Springs, AR, where shopping is virtually non-existant and the mall is worse than a hospital cafeteria.
I'm proud to say that now, when Black Friday rolls around, I'm not a participant. In fact, I'm going to do quite the opposite of buying Christmas presents. I'm going to support a new holiday – Buy Nothing Day.
Last night I looked through catalog after catalog, trying to figure out gift ideas for my friends and family. I didn't see one thing, not one, that I'd just HAVE to buy on Black Friday. It's all just a mash up of items that Wal-Mart, and other companies, are trying to push... maybe even conducting an expiriment to see if people will actually buy an item like a piece of shit $400+ laptop (that's already out of stock... uh, it's not even Friday yet).
So screw Black Friday, that's what I say. Besides, how often do you saavy internet users go to stores to buy gifts anyway? I do a majority of my shopping online. Think about it, no hassles, no lines, no parking issues, price-comparisons... you can't beat that.
If you'd like to try your hand at shopping online, make sure you don't just go to one web site. Best thing you can do... Google, Froogle and eBay it.
For example, why go to the local Target to buy a Vidster for $99.99, when you can easily find it on Froogle for $59.99 and on eBay for $45? That's a no-brainer. And it's like that for almost every purchase you can make.
The kicker is that sometimes you'll pay a little bit more for shipping, but usually stores will have free shipping deals because they really want your business. A cool site, that can help you with that, is dealcatcher.com. Just enter the store name you're shopping at in the search box and there could be a coupon fer ya. Not bad.
And if you want to see some truly horrible gift ideas that I ran across last night, then check these out. Annnnnd this one.
Have a great holiday weekend everyone!
+ original post date: November 22, 2005 10:29 AM
+ categories: All About Seth, Holidays, WTF, Web Stuff