July
13
Ahhh, Birthdays of Yore...
I was digging through my birthday photos last night in anticipation of my 27th birthday coming up on Friday. I found a lot of good ones, had a lot of laughs, and spent some quality time remembering each of my birthdays throughout the years. Posted below is, by far, my favorite birthday picture from several years ago.
I'm sure each one of you reading this know that you share a birthday with someone famous. If you don't know who, then go check it out now. I happen to share my birthday with former child-star Corey Feldman and Hall of Fame Running Back, Barry Sanders.
But, little did I know that I shared my birthdate with The Granddaddy of Pappycorn, The Kernal King, yes, good ol' Popsalot Inna Bag himself... Orville Redenbacher. And could you imagine the look on my face when he SHOWED UP AT MY BIRTHDAY PARTY!?! Stunned. That's what I was.
"But he died in 1995," you say. "You're wrong," is what I say back. And to prove it, here's a picture from the party... Big Orv (that's what he insists on being called) was cracking everyone up. He was telling jokes, doing impersonations and yes, I dare say, lighting his farts on fire. This picture was taken shortly after he pulled popcorn out of my ear (who knew he was a magician, too). Oh, the memories.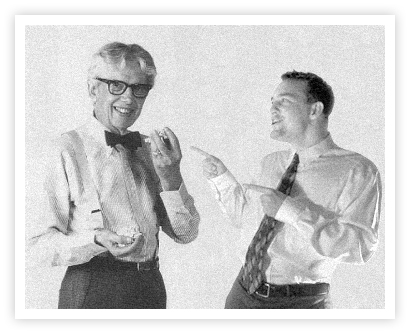 + original post date: July 13, 2004 11:18 PM
+ categories: Funny, Ha Ha